Ortholan gel
Massage gel.

For muscle fatigue relief and musculosceletar system regeneration Ortholan contains ingredients which penetrate the tissues of musculosceletar systems. They lead to decrese of pain and inflammation and support muscle and joint regeneration.

Active ingredients: Glucosamine sulfate, Boswellia serrata extract, Methyl salicilate, Emu oil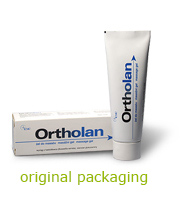 Use guidelines: Massage gel to skin over the affected area. Massage thoroughly to full absorption. Use 2-3 times a day. Gel is fat free hence it is well and quickly absorbed.
Preparation: gel
Unit: 50ml
back to Other brands products